Selling an expensive watch online is something most people find quite scary. "You want me to stuff my Rolex in a box or padded envelope and send it off for appraisal before I get any money for it??" is the general line of thinking with most people when it comes to selling a luxury watch online.
However, as the secondary watch market grows, so do the number of websites and online platforms which cater to this market. In this review, I will be focusing on the best place to sell your watch online based on my personal experience.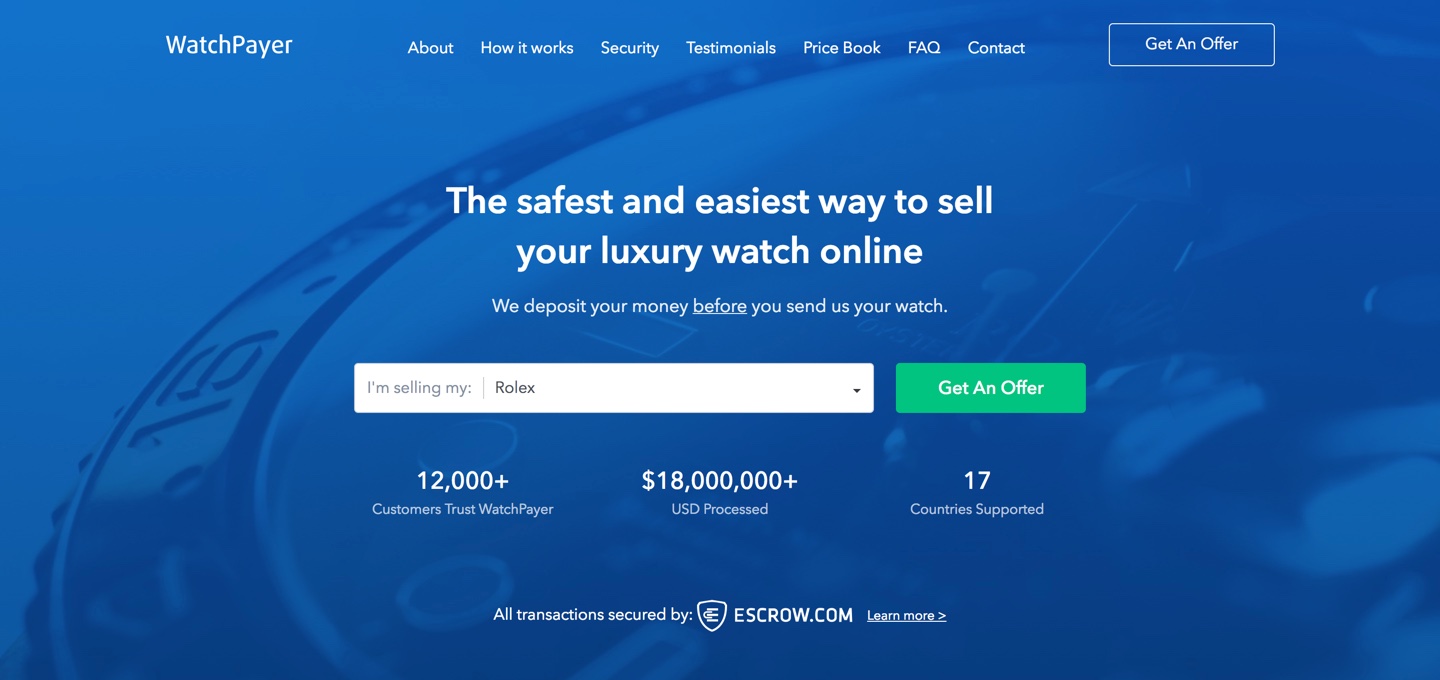 The #1 place to sell your luxury watch online: WatchPayer.com
I'd like to start off by saying that although I probably have not tried every single website there is where you can sell your watch online, I believe I came pretty darn close! I've been doing this for years and have tried a multitude of services. Therefore, I believe a review of ours carries a lot of weight when it comes to where to sell your watch online.
I've been hearing about WatchPayer for quite some time now and there certainly is quite a buzz about the company. After hearing about WatchPayer over and over again I decided to give it a shot and see what all the fuss was about. I decided to sell a Rolex Milgauss 116400 to WatchPayer and here was what the process was like:
Customer Service

Security

Purchase Offer

Transaction Speed
I went to the WatchPayer website and filled out their quote request form. This form is similar to the quote request forms you would see on other similar websites. They have a page dedicated just for Rolexes which I thought was a great idea since Rolex dominates the secondary watch market (more so than they do the new market).
The website loaded quickly and used a secure SSL certificate which is an absolute pre-requisite level of security these days. After filling out the form I received an email with a quote estimation within 5 minutes. I can not stress how much faster this was than any other service I've tried in the past. I have previously waited up to 4 days(!) for people to provide us with a quote so this was something very different.
The quote was definitely strong and was accompanied by detailed reasoning behind the pricing based on various parameters that get taken into account in the secondary luxury watch market. This email exhibited a very high level of proficiency and understanding of the secondary market by Larry which was the watch appraiser that was handling my purchase request.
In addition to the estimation, Larry had requested a bit more information about the watch (mostly what I needed was more pictures of various angles). I sent those over and received a purchase offer 2 hours later. This time not an estimation but a specific purchase offer from one of the buyers in WatchPayer's private network of buyers and collectors.
With various private buyers bidding on your watch with WatchPayer they are often able to give you a better purchase offer than you would get at other places and that was certainly the case with my Milgauss. I were happy with the offer I received and decided to move forward with the sale. I let Larry know I agree on the price and within minuted received an email with directions on how to open my secure escrow account.
This was one of the things that really stuck out in my minds about WatchPayer - they secure all of their transactions with a 3rd party escrow account and deposit the money for your watch in that escrow account before you even send them the watch.
The benefit an online seller receives from this is obvious and left us wondering why don't all the other companies do this? Why would I just send you my watch without getting anything for it and hope that everything will be fine when a company like WatchPayer deposits my funds in an escrow account before I even need to send them the watch? I believe this is something that the other companies will quickly catch up with because this makes selling your luxury watch to WatchPayer an absolute no brainer!.
You can read more about WatchPayer here.